We have been testing out the Vax ONEPWR Blade 4 Pet Cordless to see how it can cope with a Giant, fluffy dog!
Having a giant Newfoundland Dog we seem to be constantly getting the Vacuum out, up until now we have been using a corded hoover but its a bit awkward to drag up and down the stairs, plus we've had it a while and it was starting to lose it's ability to pick up so much fluff!
My parents bought their first VAX in 1988 and it's STILL going, so I was curious to see how the newer vacuums from VAX measured up!
Vax ONEPWR Blade 4 Pet Cordless Vacuum Cleaner Battery Life
The website states 'The Vax Blade 4 Pet Cordless Vacuum Cleaner is powered by the revolutionary ONEPWR 4.0Ah battery, our interchangeable battery technology. Together with our best ever Vax CoreTM controlled brushless motor, get continuous cleaning performance for up to 45 minutes.'
We used to have cordless vacuum a few years ago, a well known brand and extremely expensive, but it was extremely disappointing and the charge didn't even last the entire downstairs of the house, which meant I had to put it back on charge approximately 3 times just to vacuum the house from top to bottom, so I was interested to see how the charge would work for the Vax ONEPWR Blade 4 Pet Cordless and it's been great, I can do the entire house on one charge, and the battery fits on the charger that I keep in the study, then put back in the VAX when I need it, so it doesn't have to be fixed to the wall unlike our previous cordless.
If you do have an extremely large house, you can purchase a spare battery that you can leave on charge, and just swap them over, if needed, but i'd be surprised if any 'normal' house requires it.
At just 3.1kg, VAX Blade 4 Pet is perfectly balanced for effortless, easy to use cleaning. Offering the performance of a corded vacuum in a sleek lightweight design.
It feels lightweight and easy to manoeuvre around all areas of the house, its easy to detach the different attachments and fix in a different one, with a simple push of a button.
Extra Accessories
The hoover currently comes with a Vax Cordless ProKit 2, which has all the accessories you could need for cleaning stairs, clearing out the boot of the car after a particularly muddy walk, getting in all the nooks and crannies around our old farmhouse, in fact, pretty much anywhere.
Technical Specifications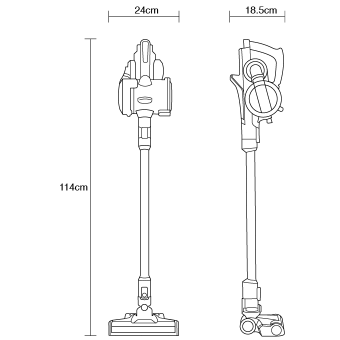 Model number – CLBN-B4PT

Guarantee – 3 year guarantee

Charge Time – 3 hours

Battery Run Time – 45 minutes

Capacity – 0.6l

Other tools included – Mini Motorised Pet Tool

Part Number – 1-P-142371
The Bin
The VAX Blade 4 Pet has a removable bin for simple, hygienic and easy emptying. The emptying of the bin is easy, you just squeeze the two buttons together, but if i'm honest it took me a little while to get the hang of the putting it back into the holder! Not sure what it was but just seemed a little fiddly, but think it might just be me, as nobody else in the house seemed to have a problem!
The Floorhead
The Vax Blade 4 Pet has a specially designed floorhead that allows you to move with ease from carpet to hard floor, plus an antimicrobial treatment on the brush bar helps protect your bristles from bacteria and fungi by preventing their growth. The hair can get wound around the floorhead, and it needs emptying before it gets too full, or you run the risk of it affecting the motor, it's pretty easy to empty, simply unlock, pull out the brush and cut off the fur/hair from the floorhead.
Vax vs Newfoundland Dog
Bree is a 2 year old Newfoundland dog, who loves nothing more than rolling herself around the house, leaving a constant fur trail, so we seem to be constantly getting the vacuum out, so the fact that its cordless is definitely a bonus, the length of charge is brilliant, and its definitely winning the fight against Newfie fluff! She isn't particularly keen on the hoover, she barks at it most days, and tries to bite the brush, but she is getting better!
The weight of the Vax means its easy to lift up the stairs, the extra tools that came with the VAX means there really is no area that you cannot reach, the button on the handle switches between floor types easily, and for stubborn marks on the floor the boost button ensures no dirt is left behind.
It does fill the bin fairly quickly, but its so easy to empty and certainly beats having to change a hoover bag (who remembers when they exploded everywhere), the brush gets twisted up with a combination of dog fur and hair, which isn't surprising with over half the household having shoulder length hair, but its easy to clean, and doesn't take too long, but it does need checking frequently.
Brush Head Problem
After using the VAX for a few weeks it suddenly started making a funny whistling sound and the brush wouldn't turn, I went online and tried all the suggested fixes, but to no avail, so I sent an email to the customer service team and someone called me back within 24 hours, he asked me to hold the phone to the VAX and turn it on, within a few seconds he diagnosed there was a problem with the Brush Head and they sent me a replacement within 48 hours although it can take up to 5 days. They were extremely helpful and I would definitely recommend VAX just on their customer service.
The VAX has been fine ever since, and with nine people plus a Giant dog, we are certainly putting it through its paces!
Price
The current price for the Vax ONEPWR Blade 4 Pet Cordless is £199.99 which I think is an excellent deal, I have tried many different types, ranging in price from £200 to £600 and I am genuinely shocked that this has come in at the lowest end price bracket because it's doing a brilliant job and i'll certainly be keeping this one!
*I was provided with a Vax ONEPWR Blade 4 Pet Cordless free of charge for the purpose of this review, all thoughts and opinions are my own*