#Alphablogbites G is for Gift

Gift
Well, if you have been following Hex Mum Plus 1 last month, you will have already read what my favourite present has been, so I don't need to repeat my self, and if you haven't read it, feel free to click on the link!
I absolutely LOVE wrapping presents, which is probably a good thing, considering how many I have to wrap every year (eight birthdays plus everyone but mine at Christmas!) I enjoy shopping for people when I know what they want, it's the ones that say "Oh just get me anything" I struggle with.
I am not an early, organised Christmas person at all, I have got a couple of little things that I have seen and thought people would like, but it seems the older the children get, the smaller the present but the bigger the price tag!
Do you like wrapping, choosing or receiving the best ?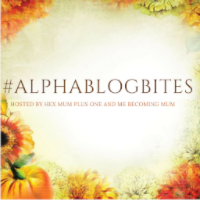 Loading InLinkz ...